A run-down on how to bring your Sales and
Inbound Marketing efforts together
Abstract:
Join Eric Karaszewski for a rundown on how to align your sales process with your Inbound Marketing. Taken separately each effort has a meaningful impact on your organization, but when the two areas are able to work together and communicate, a beautiful thing can happen. Let Eric walk you through the ways you can combine your marketing and sales efforts to increase your inbound leads.
Eric Karaszewski is a Sales Manager for Spectate Inbound Marketing. With many years in sales both at Hannon Hill and elsewhere, he is well-versed in sales techniques and strategies. Having been on-board with Spectate since its inception, his understanding of Inbound marketing is substantial and he has worked with multiple organizations to hone their strategies for building leads and growth.
Video: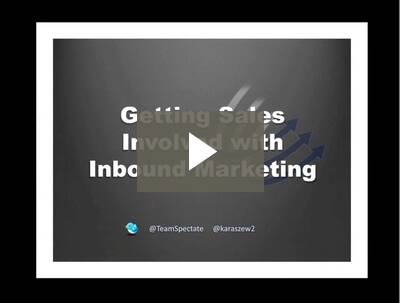 Related Resources:
The Elevator Pitch 2.0 – blog post
Getting on the Same Page when Assessing Prospects – blog post
Who's on your Site? The Benefits of Identifying Visitor Companies – blog post